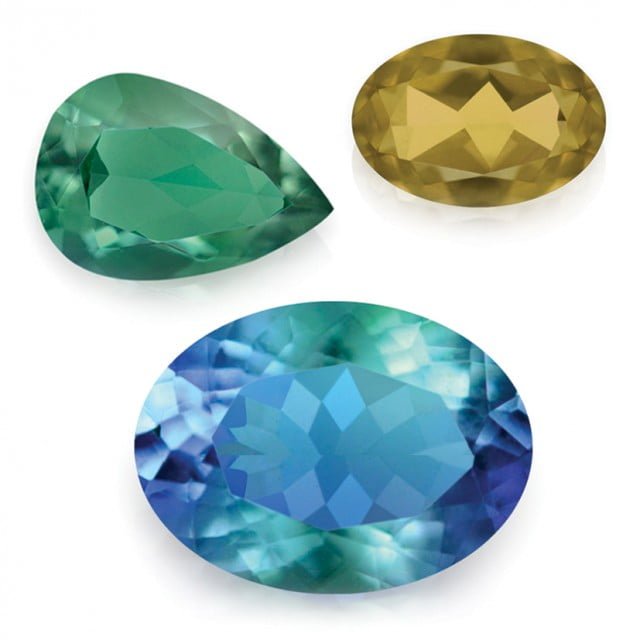 Fancy Tanzanite are very rare and highly collectable Golden, Green, Lilac and Peacock gemstones from Tanzania. As a sole source gemstone, Tanzanite is much defined by its genuine rarity as its beauty.
Refractive Index
1.691 - 1.700
Beauty
Typically gorgeous blues and bluish-purples, Tanzanite also comes in extremely rare and highly collectable fancy colors: Golden, Green, Lilac and Peacock (blue and green). Tanzanite's different colors are due to the amount and ratio of chromium and vanadium, and the major value determinates for this gemstone are rare/beautiful fancy colors and cutting quality.
Tanzanite is a challenging gemstone for the lapidary because of the orientation of crystals due to trichroism (three colors and their intensity change when viewed from different angles) and in the case of Peacock Tanzanite, the orientation of crystals for a blend of colors. As a high transparency and an absence of inclusions are signature characteristics of Tanzanite, optimal lapidary with a good brilliance and eye-clean clarity, the highest quality clarity grade for colored gemstones, are key quality considerations for this gemstone.
Tanzanite was discovered in 1967 at the world's sole deposit not far from Tanzania's Mount Kilimanjaro and the town of Arusha in the arid Merelani foothills that rise from the hot Sanya plains. Segmented into four 'blocks' (A, B, C and D), the Tanzanite deposit scarcely covers 20 square-kilometers. According to legend, the first to unearth Tanzanite were nomadic Masai herdsmen, but the discovery has been officially attributed to Ndugu Jumanne M. Ngoma by the Tanzanian government. A variety of the mineral Zoisite, 'Tanzanite' was named by Henry B. Platt, Former President & Chairman, Tiffany & Co. in tribute to the land of its birth. Fascinated by this gemstone he stated, "Tanzanite is the most important gemstone discovery in over 2,000 years". One of the best-selling colored gemstones, Tanzanite joined Turquoise and Zircon as the official birthstones for December in 2002.
Rarity
As a sole source gemstone, Tanzanite is much defined by its genuine rarity as its beauty. Tanzanite production is decreasing with the Tanzanite Foundation stating in August 2013 that, "At the current rate of mining, and given its single source and limited supply, it is estimated that there is less than 15 – 20 more years of Tanzanite left in the ground".
Tanzanite's rare fancy colors are highly coveted by collectors, but their supply is limited due to geological scarcity. If regular colored Tanzanite is "a thousand times rarer than Diamonds", how many more times rarer are these fancy colors?
Golden, Green, Lilac and Peacock Tanzanite are some of the few gemstones that are entirely natural and not enhanced.
Durability & Care
A popular jewelry gemstone well-suited to everyday wear, Tanzanite (Mohs' Hardness: 6.5 – 7) should always be stored carefully to avoid scuffs and scratches. Clean with gentle soap and lukewarm water, scrubbing behind the gem with a very soft toothbrush as necessary. After cleaning, pat dry with a soft towel or chamois cloth.
Map Location