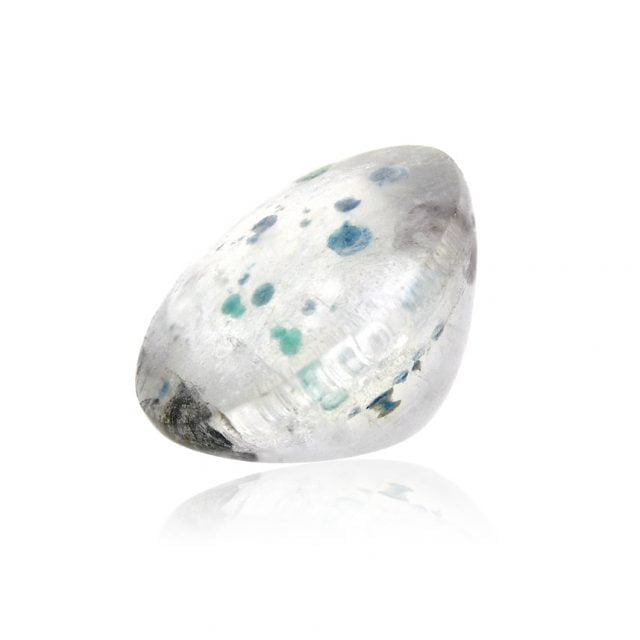 Only found at the Batalha Mine in the Brazilian state of Paraíba, Gilalite Quartz is an extremely rare and uniquely beautiful variety of Colorless Quartz, containing striking bluish-green crystals of Gilalite.
Undeniably rare and gorgeous, Gilalite Quartz is a unique addition to any jewelry collection.
Refractive Index
1.544 – 1.553
Beauty
An inimitably gorgeous variety of Colorless Quartz (also known as White Quartz or Rock Crystal from the Greek 'krystallos' meaning ice), Gilalite Quartz has rare bluish-green crystals of Gilalite.
Gilalite Quartz's jellyfish inclusions, and its singular locale, aptly result in the colloquial names, 'Medusa' or 'Paraíba' Quartz.
Gilalite Quartz is deftly finished as modified buff tops with a wide table, low crown, and pyramid pavilions.
Gilalite is a copper-rich silicate mineral named for its discovery in the Christmas Porphyry Copper Mine in Gila County, Arizona in 1980. The modern name Quartz is derived from the Saxon word 'querklufterz', meaning cross-vein-ore. Gilalite Quartz is a variety of macrocrystalline (large crystal) Quartz, a group which also includes Amethyst, Citrine, Lavender Quartz, Madagascan Rose Quartz, and Tiger's Eye. Cryptocrystalline (small crystal) Quartz gemstones include Agate, Chalcedony, Jasper, and Onyx.
Rarity
While Colorless Quartz is found worldwide, Gilalite Quartz was exclusively discovered in 1990 at the Batalha Mine near the town of Salgadinho in Brazil's Paraíba State, best known for the coveted Paraíba Tourmaline.
Receiving no enhancements, Gilalite Quartz is one of the few gemstones that are entirely natural.
Durability & Care
Gilalite Quartz is a durable gemstone (Mohs' Hardness: 7) well-suited to everyday wear. Always store Gilalite Quartz carefully to avoid scuffs and scratches. Clean with gentle soap and lukewarm water, scrubbing behind the gem with a very soft toothbrush as necessary. After cleaning, pat dry with a soft towel or chamois cloth.
Map Location