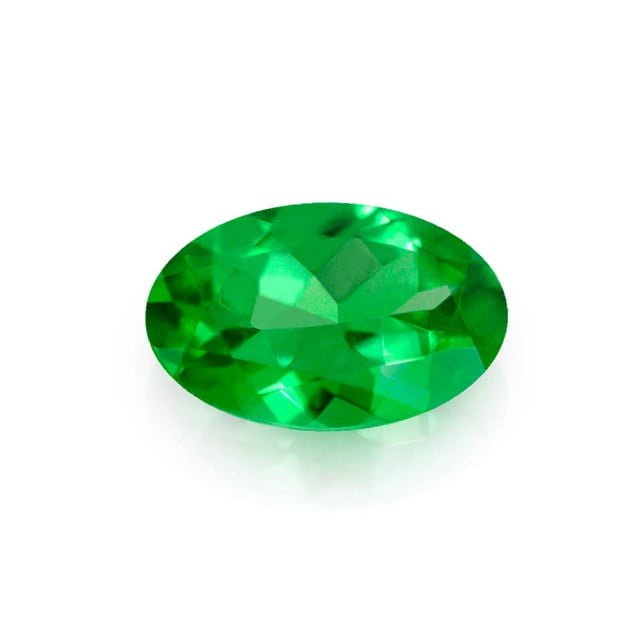 Kenyan Tsavorite are brilliant green gemstones from deposits near Kenya's famous Tsavo National Park. The 'King of Garnets', Tsavorite is increasingly popular due to its beautiful greens, and is one of the scarcest and most valuable gemstones.
Relative Density
3.57 - 3.73
Beauty
Tsavorite is regarded by many gem experts to be the world's finest green gemstone with the former President of Tiffany & Co., Henry B. Platt stating, "Tsavorite is everything that a fine gemstone should be, and then some". While Emerald's greens are frequently exemplified as being 'unparalleled in the gem kingdom', former Colored Stone magazine Editor-in-Chief David Federman states, "Tsavorite has a reputation of showing green at its best".
While the purity of Tsavorite's green is a defining characteristic, ranging in color from forest green (visually bluish, 85-90 percent green, 10-15 percent blue), to grass or leaf green (a visually pure green, 80 percent green with roughly the same amounts of yellow and blue) to water green (a little yellowish, 75 percent green, 15 yellow and 10 percent blue), the intense middle tones displayed by Kenyan Tsavorite are highly coveted.
Kenyan Tsavorite is remarkably brilliant due to its relatively high refraction (light entering Tsavorite is bent at a greater angle than light entering Emerald), considerable fire (also dispersion, the splitting of light into its component colors; Tsavorite is double that of Emerald), and a single refractivity that adds intensity to its color communication (Emerald is doubly refractive).
Optimal lapidary accentuates the innate brilliance of Kenyan Tsavorite and it is finished eye-clean, the highest quality clarity grade for colored gemstones as determined by the world's leading gemological laboratories, with an attractive shape and overall appearance (finish, outline, profile and proportions). While ovals are most common, Kenyan Tsavorite is available in a wide variety of cuts.
January's birthstone, Garnet's name is derived from the Latin 'granatus' (from 'granum', which means 'seed') due to some Garnets' resemblance to pomegranate seeds. Coming in blues, chocolates, greens, oranges, pinks, purples, reds and yellows, Garnets are a group of minerals possessing similar crystal structures, but varying in composition, giving each type different colors and properties. Tsavorite was discovered by Campbell R. Bridges (1937 – 2009), the legendary Scottish geologist who was also the first person to bring Tanzanite to the Gemological Institute of America (GIA). In recognition of his contributions to the gemstone industry during a career spanning more than five decades, Campbell was awarded an International Colored Gemstone Association Lifetime Achievement Award in 2009. He first encountered Tsavorite in 1961 in Zimbabwe while working for the United Kingdom Atomic Energy Authority, next in 1967 in Tanzania's Lelatema Mountains, and once again in 1971 in Kenya's Tsavo region, establishing the famous Scorpion Mine in the Taita-Taveta District of south-east Kenya in 1980. A renowned champion of the African gem industry and environment, Campbell was sadly killed in Tsavo on 11th August, 2009. A Green Grossular Garnet, Tsavorite is the trade name created in 1973 by its discover, Campbell R. Bridges, and Tiffany & Co.'s Henry B. Platt (great grandson of Louis Comfort Tiffany) in homage to Kenya's nearby Tsavo National Park. This iconic name is wonderfully emotive, firmly connecting the gem with one of Africa's largest and most famous wildlife reserves. Tsavorite and the Andradite Garnet, Demantoid are the two green siblings of the Garnet family. Tsavorite is colored by the substitution of vanadium, and occasionally chromium, the same elements that give Emerald its characteristic hues. More vanadium and chromium increases Tsavorite's greens, while iron gives the gem a yellowish tint. Mint Green (light toned bluish green) Grossular Garnets discovered in 1998 near the Tanzanite deposits in the Merelani Hills of Tanzania's Arusha region are aptly called Merelani Mint Garnet. While it comes in many colors, including various shades of brown, green, orange and yellow, Grossular Garnet gets its name from the Latin 'grossularia' (gooseberry) due to the color similarity of its pastel green varieties with the fruit. Apart from Tsavorite and Merelani Mint Garnet, other Grossular members include Hessonite (orange, sometimes with hints of red and brown) and Mali Garnet (yellowish green to greenish yellow). Sources for Grossular Garnet include Brazil, Canada, India, Italy, Kenya (Tsavorite), Madagascar (Hessonite and Tsavorite), Mali (Mali Garnet), Mexico, Namibia, Pakistan, Russia, Sri Lanka (Hessonite), Tanzania (Hessonite, Merelani Mint Garnet and Tsavorite) and the USA.
Rarity
Tsavorite deposits in East Africa are hosted by metamorphic rocks of the Mozambique Belt that stretches almost 5,000 kilometers up the east coast of Africa from Mozambique through Tanzania, Kenya, Ethiopia and Sudan. These rocks were deposited in a shallow marine environment and subsequently metamorphosed 650-550 million years ago, altering the original character of these rocks. There are only a handful of Tsavorite deposits located in Kenya (Tsavo and Turkana), Tanzania (Merelani, Lemeshuku, Tunduru and Ruangwa) and Madagascar (Gogogogo and Behara). Interestingly, small amounts are also found in Pakistan, although these are regarded as lower quality than the crystals found in East Africa. Kenyan Tsavorite is from deposits in the Taita-Taveta district of south-east Kenya approximately 30 kilometers south of the town of Mwatate, and 5 kilometers outside Tsavo National Park.
Plagued sporadic production, a lack of gem-quality crystals and by scant availability, Tsavorite is notoriously difficult to mine due to their small and irregular deposits. Mining is further complicated by the fact that the gem often occurs in nodules, which can be difficult to identify. The host rock is extremely hard, requiring drilling and blasting. Once the waste rock is removed, hand tools are used to minimize damaging the gem crystals in any unexposed nodules. By first removing the surrounding host rock, the Tsavorite can be extracted without damage. Hammers and chisels are employed until a nodule is located, then smaller hammers, fine chisels and even nails are used to carefully extract the Tsavorite. Often the nodules initially appear intact, but are later found to be fractured. Most Tsavorite weighs less than 3 carats with around 85 percent under 1 carat, 10 percent above 1 carat, 2.5 percent over 2 carats, 1 percent 3-5 carats, and about 0.1 percent over 10 carats.
According to the gem's official website, www.tsavorite.com, "Tsavorite is also at least a thousand times rarer than Emerald". Tsavorite is considerably rarer than Emerald, especially in sizes above 3 carats, and unique to East Africa in terms of commercial production of gem-quality crystals. Unlike Emeralds, Kenyan Tsavorite is also one of the few all natural gemstones that are not enhanced. Throughout its short history, Tsavorite has steadily increased in value due to its extreme rarity. Today, it is one of the most expensive Garnets and among the highest priced colored gemstones. Its prices even increased during the US stock market crash in the late 80s when prices for the majority of gemstones fell. One of the rarest and increasingly popular Garnets, Tsavorite prices have recently increased due to a significant drop in production coupled with skyrocketing demand. Production has decreased due to the closure or suspension of Kenyan mines since 2009, combined with previous Kenyan Tsavorite miners now focusing on gems that are easier (and less expensive) to extract. Its discoverer, Campbell R. Bridges, once prophesized there wouldn't be enough Tsavorite to meet demand and this has come to fruition.
In 2007, the world's leading Tanzanite miner, TanzaniteOne, announced the formation of TsavoriteOne approximately 20 kilometers from its Tanzanite mine. In 2010 it was reported they have bought mining concessions covering 100 square-kilometers, potentially creating the largest Tsavorite mine, and in 2011 announced a total indicated resource of 1.4-3.5 million carats of Tsavorite. The exploration is currently in the bulk sampling phase and the final decision to mine will be made after this has completed.
Durability & Care
Kenyan Tsavorite (Mohs' Hardness: 7 – 7.5) is an excellent choice for everyday jewelry. Kenyan Tsavorite should always be stored carefully to avoid scuffs and scratches. Clean with gentle soap and lukewarm water, scrubbing behind the gem with a very soft toothbrush as necessary. After cleaning, pat dry with a soft towel or chamois cloth.
Map Location