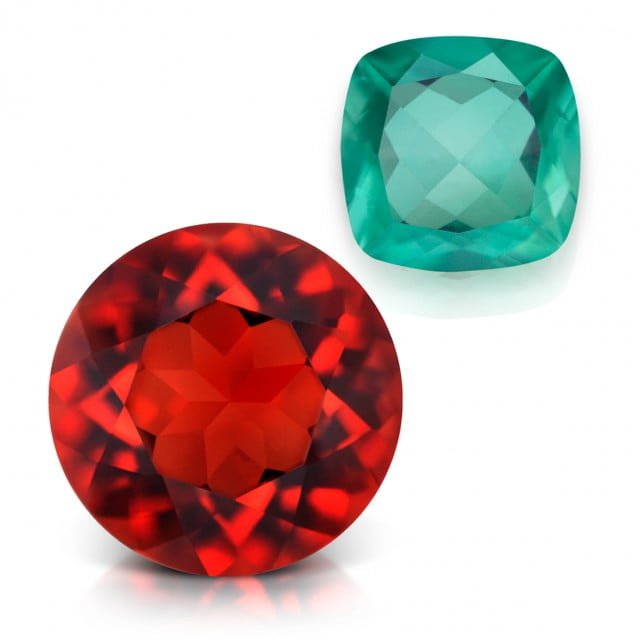 Tibetanite are rare, red and green gemstone from central Tibet. One of the rarest Feldspar gemstones, Tibetanite is highly valued due to its intense reds and greens, high clarity and excellent transparency.
Refractive Index
1.543 - 1.562
Relative Density
2.66 - 2.68
Beauty
Named for its country of origin, Tibetanite first appeared on the marketplace in late 2005. Ranging from pastel orange to intense reds with occasional greens, Tibetanite's major value determinants are color, clarity and transparency. Our Tibetanite displays even, intense 'paprika' reds or rich bluish greens, good brilliance, and an attractive luster, key quality considerations that are accentuated by optimal lapidary and an eye-clean clarity, the highest quality clarity grade for colored gemstones. With only 15 percent of Tibetanite extracted transparent and eye-clean, our Tibetanite represents the top two percent of production. Tibetanite is extremely limited in this quality, experiencing high global demand.
One of the rarest gemstones in the Feldspar group, Tibetanite is also known as Tibetan Andesine or Tibetan Sunstone. Andesine derives its name from its first discovery in South America's Andes Mountains in 1841. Other members of the Feldspar group include Labradorite, Moonstone and Sunstone. While our Tibetanite is natural and untreated, please be aware that that the vast majority of Andesine that flooded world gem markets since 2002 are artificially-colored gems from Inner Mongolia.
Rarity
As a sole source gemstone, the genuine rarity of Tibetanite is undeniable. Tibetanite comes from deposits near Dhongtso 5 (Zha Lin) village located 60 kilometers southeast of the town of Shigatse in central Tibet. At a height of 4,000 meters above sea level, mining is extremely difficult and compounded by the limited mining season (June through October). Always difficult to source, Tibetanite mining is also affected by local beliefs that digging for gems in the mountains upsets the mountain gods, resulting in severe storms and flooding. Tibetanite is one of the few gemstones that are not enhanced.
Durability & Care
Tibetanite (Mohs' Hardness: 6 – 6.5) is an emerging jewelry gemstone well-suited to everyday wear. Always store Tibetanite carefully to avoid scuffs and scratches. Clean with gentle soap and lukewarm water, scrubbing behind the gem with a very soft toothbrush as necessary. After cleaning, pat dry with a soft towel or chamois cloth.
Map Location