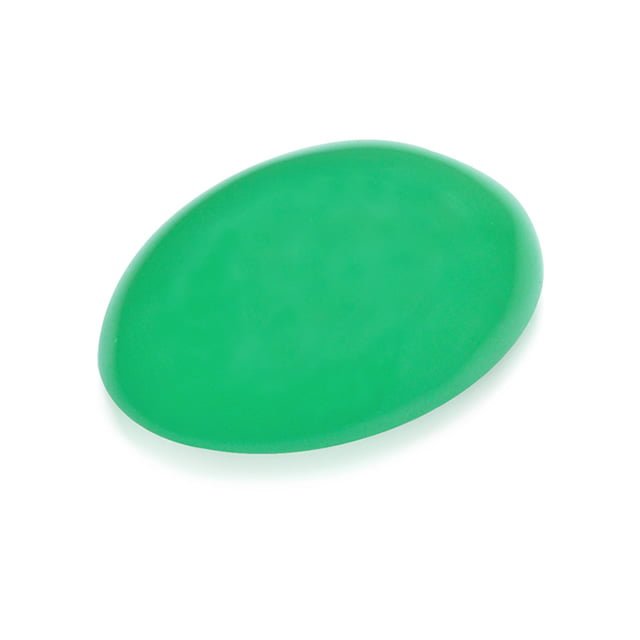 Australian Chrysoprase are beautiful, apple-green gemstones from the famous Marlborough mines in Central Queensland. One of the rarest and most highly prized Chalcedonies, Australian Chrysoprase is acclaimed for its fine color and translucency, representing some of the very best Chrysoprase available.
Refractive Index
1.530 - 1.540
Relative Density
2.58 - 2.64
Beauty
Chrysoprase is aptly named from the Greek 'chrysos' (gold) and 'prason' (leek), due to its beautiful greens. Coveted globally for its fine quality, Australian Chrysoprase deftly combines beautiful apple-greens with a delicate translucency reminiscent of Imperial Jade.
Displaying an excellent luster, Australian Chrysoprase is optimally cut into attractive symmetrical cabochons with smooth domes, a superior polish, and desirable proportions.
A variety off Chalcedony colloquially known as the 'Golden Greenstone', Chrysoprase's green varies due to hydrated silicates and nickel oxides. Chalcedony is not only the family name of cryptocrystalline (small crystal) Quartz (from the Saxon 'querklufterz', meaning cross-vein-ore), but also a gem within the family. Chalcedony is typically translucent to opaque, coming in black, blue, brown, green, grey, orange, pink, red, white, yellow, and combinations thereof, with patterns such as banding, mottling and spots. Chalcedony is also a sub-group within the family that covers its uniformly colored members while its multi-colored varieties fall under Agate. Coveted since 7000 BC, medieval philosopher Albertus Magnus relates a story of how Alexander the Great wore a Chrysoprase in his girdle to assure victory.
Rarity
Australian Chrysoprase is sometimes confusingly and incorrectly called 'Australian Jade' due to this prodigious origin, Chinese naming practices, and its resemblance to fine Imperial Jade.
The best quality Australian Chrysoprase is mined from the famous Marlborough deposits near Rockhampton in Central Queensland. While the deposits were discovered in 1905 and mined since 1959, top-quality Australian Chrysoprase from Marlborough remains difficult to source and in high demand, noting our gems are historic production mined in the late 80s.
Australian Chrysoprase is also totally natural and unenhanced, which is paramount for the best qualities, accentuating their rarity.
Durability & Care
Australian Chrysoprase is a durable gemstone (Mohs' Hardness: 6.5 – 7) well-suited to everyday wear. Always store Australian Chrysoprase carefully to avoid scuffs and scratches. Clean with gentle soap and lukewarm water, scrubbing behind the gem with a very soft toothbrush as necessary. After cleaning, pat dry with a soft towel or chamois cloth.
Map Location